AquaDec Linear 3 wet room shower floor former with linear drain against wall.
New to the Impey Aquadec range is the Aquadec Linear 3. This dec features a Linear gully positioned close to the adjacent wall (within 40mm) and the three fall design negates any risk of pooling.

Impey's award-winning and innovative Aqua-Dec systems include the attractive Linear dec range. Available with

2, 3 or 4 falls towards the linear shaped gully.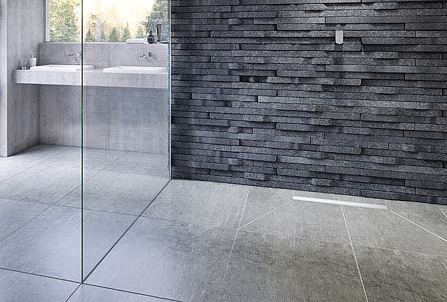 LinearFlo wet room floor formers are the ideal way to create a perfect wet room shower area with a linear waste outlet without the time consuming and tricky fabrication of a sloping floor.
Aquadec Linear 3
Aqua-Dec Linear 3 is the newest member of the Aquadec wet room floor former range from Impey UK. The gully, which can be positioned as close as 40mm to the adjacent wall, presents a contemporary yet highly practical way to carry water away.
What's more, you can now select your preference of Linear drain cover.
Personalise your wetroom shower with your choice of gully cover.
Aquadec Linear is supplied with a Stainless Steel gully cover, but as optional extras you can change this to either Black Glass or one with a tile rebate so the cover can be blended into the surrounding floor.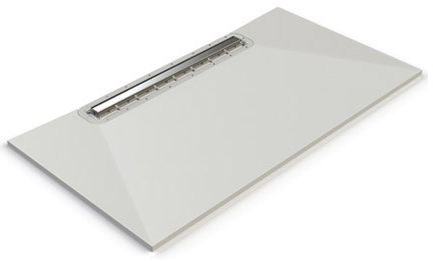 Use in conjunction with a waterproof tanking membrane for a leak proof job
To ensure a perfect and totally leak-proof installation it is recommended you use a waterproof tanking kit.
Suitable for use with all our wet room shower floor solutions (screed or timber), an easily applied tanking membrane provides you with totally security and assurance of a leak-free installation.
No risk of dampness, just total peace of mind.