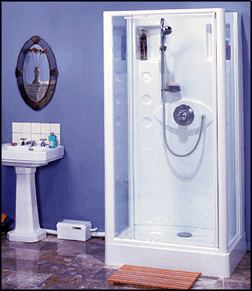 The waste water pump for showers and hand wash basins
Sanishower (Ref No 1043) is a small, strong, purpose designed pump for discharging hot waste water from shower and washbasin to a distant drain.

The product is especially useful where a shower or wash basin is to be sited in a place where gravity drainage will be difficult or impossible to run - for example in a basement or on a internal wall of a property.

Sanishower can be installed next to or underneath a shower tray with access and will discharge waste water through 22mm small-bore pipework, vertically up to 4 metres or horizontally up to 40 metres or a lesser combination of both.